These titles that are up for the best movie of the year were at one point books. As lovers of books we always have to encourage the reading of books so here is a list of oscar reads to devour before or after the "winner" is announced.
Philomena
| | |
| --- | --- |
| | |
Now a major motion picture starring Judi Dench and Steve Coogan and nominated for four Academy Awards: the heartbreaking true story of an Irishwoman and the secret she kept for 50 years
When she became pregnant as a teenager in Ireland in 1952, Philomena Lee was sent to a convent to be looked after as a "fallen woman." Then the nuns took her baby from her and sold him, like thousands of others, to America for adoption. Fifty years later, Philomena decided to find him.
Meanwhile, on the other side of the Atlantic, Philomena's son was trying to find her. Renamed Michael Hess, he had become a leading lawyer in the first Bush administration, and he struggled to hide secrets that would jeopardize his career in the Republican Party and endanger his quest to find his mother.
A gripping exposé told with novelistic intrigue,
Philomena
pulls back the curtain on the role of the Catholic Church in forced adoptions and on the love between a mother and son who endured a lifelong separation. ~Indiebound
12 Years a Slave
Now a major motion picture nominated for nine Academy Awards and starring Chiwetel Ejiofor, Michael Fassbender, Benedict Cumberbatch, Paul Dano, Paul Giamatti, Lupita Nyong'o, Sarah Paulson, Brad Pitt, Alfre Woodard, and Quvenzhané Wallis, and directed by Steve McQueen
Perhaps the best written of all the slave narratives,
Twelve Years a Slave
is a harrowing memoir about one of the darkest periods in American history. It recounts how Solomon Northup, born a free man in New York, was lured to Washington, D.C., in 1841 with the promise of fast money, then drugged and beaten and sold into slavery. He spent the next twelve years of his life in captivity on a Louisiana cotton plantation.
After his rescue, Northup published this exceptionally vivid and detailed account of slave life. It became an immediate bestseller and today is recognized for its unusual insight and eloquence as one of the very few portraits of American slavery produced by someone as educated as Solomon Northup, or by someone with the dual perspective of having been both a free man and a slave. ~Indiebound
Wolf of Wall Street
Now a major motion picture directed by Martin Scorsese and starring Leonardo DiCaprio
By day he made thousands of dollars a minute. By night he spent it as fast as he could. From the binge that sank a 170-foot motor yacht and ran up a $700,000 hotel tab, to the wife and kids waiting at home and the fast-talking, hard-partying young stockbrokers who called him king, here, in Jordan Belfort's own words, is the story of the ill-fated genius they called the Wolf of Wall Street. In the 1990s, Belfort became one of the most infamous kingpins in American finance: a brilliant, conniving stock-chopper who led his merry mob on a wild ride out of Wall Street and into a massive office on Long Island. It's an extraordinary story of greed, power, and excess that no one could invent: the tale of an ordinary guy who went from hustling Italian ices to making hundreds of millions—until it all came crashing down. ~Indiebound
Captain Philips or A Captain's Duty (book)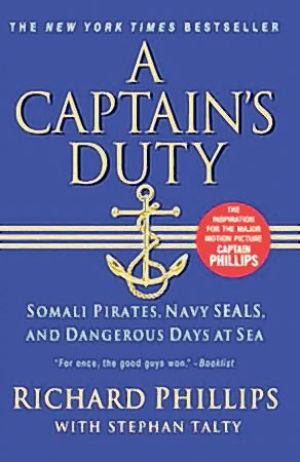 "I share the country's admiration for the bravery of Captain Phillips and his selfless concern for his crew. His courage is a model for all Americans."
–President Barack Obama
It was just another day on the job for fifty-three-year-old Richard Phillips, captain of the Maersk Alabama, the United States-flagged cargo ship which was carrying, among other things, food and agricultural materials for the World Food Program. That all changed when armed Somali pirates boarded the ship. The pirates didn't expect the crew to fight back, nor did they expect Captain Phillips to offer himself as hostage in exchange for the safety of his crew. Thus began the tense five-day stand-off, which ended in a daring high-seas rescue when U.S. Navy SEALs opened fire and picked off three of the captors.
"It never ends like this," Captain Phillips said.
And he's right.
A Captain's Duty tells the life-and-death drama of the Vermont native who was held captive on a tiny lifeboat off Somalia's anarchic, gun-plagued shores. A story of adventure and courage, it provides the intimate details of this high-seas hostage-taking–the unbearable heat, the death threats, the mock executions, and the escape attempt. When the pirates boarded his ship, Captain Phillips put his experience into action, doing everything he could to safeguard his crew. And when he was held captive by the pirates, he marshaled all his resources to ensure his own survival, withstanding intense physical hardship and an escalating battle of wills with the pirates. This was it: the moment where training meets instinct and where character is everything. Richard Phillips was ready. ~Indiebound
Happy Reading
~Rebecca Robinson